Life Afloat on The Bradgate Oak

Welcome

Welcome to this webpage, you have either come here from seeing a post in the Kiwis in London pages (or maybe Aussie pages) a fellow Kiwi or someone who has stayed aboard may have shared it with you!

Some background & history
Most kiwis in London may know me from my posts about my photography services (you can click through this website to see more) and my skate group. Others may have seen my posts about having the opportunity to travel some of the UK via my father's narrowboat several years ago. Sadly my father passed away suddenly in November and my brother (Alexander) and I have acquired his beloved boat, The Bradgate Oak. Neither of us are in a position to live on it but we aren't ready to part with it either. My father over the years gave some of my friends the opportunity to stay aboard with him while they looked for accommodation and work, giving them a interesting start to life in the UK. My brother and I have agreed that we would love to continue this.
Where is it and what's the set up?

The boat is moored in Roydon Marina. It is a 10-15 minute walk from Roydon Train Station. A train into London (to Liverpool street station or Stratford station) is around a 35-minute journey.

There is also the option to park up to two cars at the marina, many boaters use cars in general & some drive to the next train station over which has cheap car parking & use oyster card services from there.

The Bradgate Oak is a 57 ft narrowboat. The boat has 2 double bedrooms (1 that changes from a dinette to a bed) and a sofa bed in the saloon (living room). The boat can sleep 4 - 6 people.

There is a fully equipped kitchen with a fridge, gas hob & oven. There is also a bathroom with a cassette toilet & shower, though we recommend using the marina facilities that are open 24/7 for bathroom activities.

Costings?
Now that personal effects have been removed from the boat and that I have been able to add up all the general costs we pay out. Here is the pricing structure. For 1-2 people:
Monthly - £900
Bi-Weekly - £550
Weekly - £320
£25 a week for each additional person.
3 months paid in advance - £2610 (works out at £870 monthly)
6 months paid in advance - £5130 (works out at £855 monthly)


*Please note this does not include bills for monthly bookings and beyond (bills are electricity, gas, coal and wood costs.). Bi-weekly and weekly will be supplied a set amount of the above (excluding gas), if exceeded, those on board will need to pay additional costs at their own volition. All bookings include a few hours central heating in the morning and evening, times are set & come on automatically.

Bills should work out cheaper then a flat because the space is smaller, water is included and some energy is free because of the solar panels. However it varies from person to person and their general consumption.
Bond is £900 for any booking.

Car access: an additional £15 (per car) for the first week & £5 each week there after, if you wish to have a car (up to 2) parked on sight. License registration is required.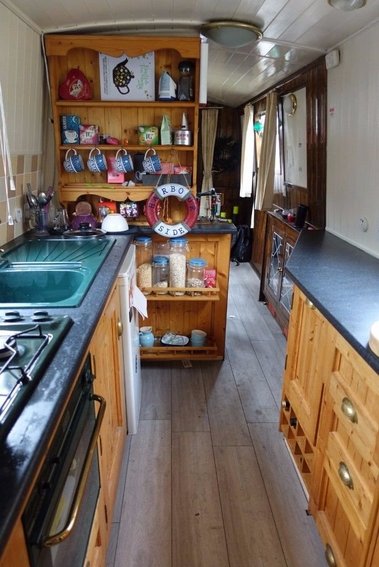 If you are looking for a place to stay when you first land, before departing or while in-between places (or you just want a little glamping break) feel free to pop me a message.
Email address to contact: yshearer@mail.com
Please share some information about yourself, the dates and duration of your requested stay & how many people will be aboard. You are welcome to put in requests for dates that have pending notices on them, you will be added to a waitlist. Please note that the boat is static, no one is allowed to move it.

Some Ts & Cs

For advanced 3/6 month costings, if the person wants to leave earlier, they must give one month's notice, the costing will be bumped back up to the costs that best fit (monthly, bi-weekly, weekly) for the time spent on board and this will be deducted from the original payment before returning the remainder of the payment. Bond will be retained due to unexpected additional administrational work.

For example, Sam books 6 months. 6 weeks in decides they want to leave earlier and puts in a request. 1 month notice (4 weeks) + the 6 weeks on board = 10 weeks total. 2 months (£900 a month) and 2 weeks (£550 bi-weekly) = £2025

£5130 - £2025 = £3105 to be returned (bond retained by us)

To read all T's & C's click here

Page last updated 30/5/23